Newsletter Date: 30 June 2022
Issue: 9/22
KIA ORA TEAM BAYVIEW
In the last few weeks we have been able to enjoy some cluster sports. On Friday 17th June we took 3 teams (netball, football, and rippa) to Glenfield College to participate in a cluster sports day. We were hosted by the Year 13 Glenfield College students and the sports academy students. Our teams were mentored by these Glenfield college students who walked beside them all day as they competed, motivating them, making up chants and cheering from the sidelines! Students from Glenfield Intermediate School umpired or refereed the games and it was wonderful to see so many ex Bayview Students doing this. It was extremely well run and well supported by our own Bayview parents! I witnessed great sportspersonship from not only Bayview but all the other schools as well. A huge thank you to Glenfield College, Glenfield Intermediate and all our coaches and supporters for supporting our lucky tamariki!
On 22nd June our Year 6 netball team competed in a special netball tournament against a range of other schools. I would like to thank Victoria Anderson for transporting the players to the tournament and for supporting them as they competed. The players returned with big smiles on their faces and with some well deserved wins under their belt!
It is wonderful to be able to get back to these kinds of events which allow our children the opportunity to play in a sports competition against their peers!
During this term we have had many school trips out of the school grounds as well! Most of our classes have visited (or are due to visit) our local waterfall and stream. These are mentioned in our school pepeha and hold great significance to Bayview School and the Bayview area.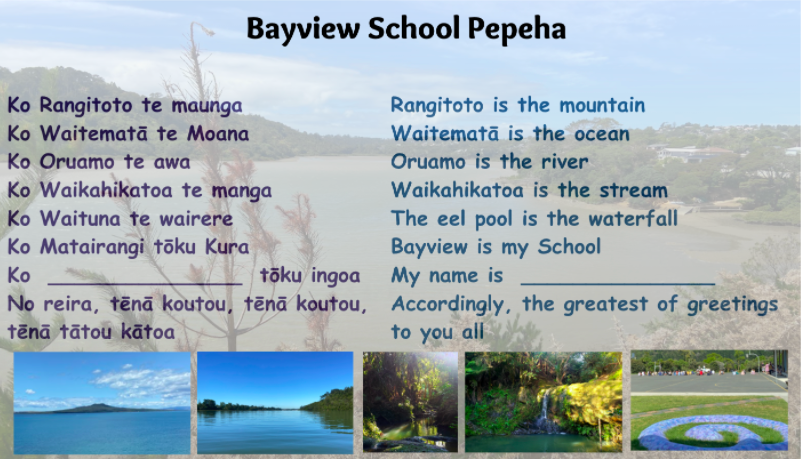 Our children are learning the history of our area and the significant landmarks that make up Bayview.
If you have been able to volunteer to be a parent help for one of these trips we thank you for your time and energy! If you were unable to attend perhaps you could ask your child to be your guide and show you these local landmarks! Sometimes if you go at night you will be able to see gloworms!
REPORTING MID YEAR PROGRESS AND ACHIEVEMENT
You may be aware that currently our teachers are writing the mid-year reports for our tamariki. These will be sent home on Friday 5th August. These will be followed by feedback meetings on Wednesday 10th August where your child and their teacher will share progress and achievement for the first half of the year. Please note that school will close early on this day so that we are able to meet with as many families as we can. School will close at 1pm on Wednesday 10th August.
BOARD ELECTIONS 2022
This year we are holding our Board elections online. To do this we are using an outside provider My School election. Please see the note below from our returning officer:
School Board Elections: Nominations from 15 July.
It's board election time again. Next term we will be electing board members for the next three years.
Nominations will open for the election of 5 parent representatives to the school board no later than 15 July.
NOTE: This starts during the school holidays.
The returning officer for the triennial board election is Bernardine Vester. She can be contacted at [email protected] .
The timetable for the election is:
Main Roll closes: Wednesday 13 July
Call for Nominations: No later than 15 July.
Supplementary Roll closes: Monday 1 August
Nominations close: Wednesday 3 August
If there are more nominations than vacancies, then parents and caregivers will receive an invitation to vote either electronically or by post.
Voting starts: Wednesday 10 August
Election day is September 7.
Voting count: Tuesday 13 September
New board in place: Wednesday 14 September.
Nominations can be made online through an email link provided in the Call for Nominations. However, a hard copy nomination form can also be obtained from the school office.
If you wish to stand for the board, it is recommended that you provide a candidate statement and
photograph.
The electoral roll will be held at the school and can be viewed during normal school hours.
NEW LEARNERS JOINING BAYVIEW SCHOOL
A huge welcome to the following learners who have started at Bayview School!
Madeleine Milton, Phoenix Hunt
We look forward to developing our connections with you over this year and to give every child at Bayview the best learning opportunities. We are stronger when we work together.
School finishes for Term 2 on Friday 8th July at 2pm.

Term 3 begins Monday 25th July at 9am.

ENROLMENTS FOR 2022 AND 2023

Thank you to everyone who has completed their intention to enrol forms for new children joining Bayview School either for the rest of 2022 or for 2023. This helps us indicate numbers to the Ministry of Education which determines our funding for 2023 and our staffing allocation i.e. how many teachers we can employ. This also affects any further classroom builds that may be required in the near future. If you have a child starting at any time this year or for 2023 please fill in the intention to return form on our website.

Dates for diaries

BOT mtg 6pm

7/7

End of term 2 2pm

8/7

Term 3 begins 9am

25/7

Dental Van onsite

25-29/7

Positive Puberty Parents meeting 6pm (Y5/6 parents)

2/8

Book Fair

5-17/8

MID YEAR REPORTS SENT HOME

5/8

Feedback meetings

School closes at 1pm

10/8

GIS road show for Y6's 1.30pm

11/8

Diving school promotion visit Y3-6

18/8

Y6 students visit Glenfield Intermediate School

23/8

Rippa Rugby tournament

25/8

BoT mtg 6pm

25/8

BOT ELECTION DAY

7/9

1ST MTG OF THE NEW BOT 6PM

22/9

TERM 3 FINISHES 2PM

30/9
Di and Team Bayview Staff