Our Professional Learning Groups (PLG's)
Who We Are
At Bayview School our classes are spread across three Professional Learning Groups (PLG). Each PLG has classes made up from Year 0 to Year 6 students. This means students from all year levels are involved in learning opportunities and social interactions with other students from within their extended PLG. Each PLG is led by a Team Leader who is also part of the school Senior Leadership Team.
Our three PLG's are: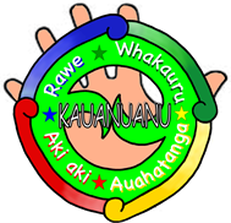 Kauanuanu was chosen as it means 'to be inspirational or awesome'. This is the value that our learning group has decided we want to represent us, as well as leave as a legacy for future students to be a part of. Within our PLG we came up with a core set of values that we thought our group displayed -Rawe (excellence), Whakauru (participation), Auahatanga (creativity) and Aki Aki (encouragement), and incorporated these ideas into our learning group logo, represented by the house colours (participation),the koru (creativity, new beginnings), the hand (encouragement) and all these characteristics drawn together would produce the best from everyone (excellence).
Team Members:
Mrs Alyssa Farrow (Team Leader) – Habitat 2 – Year 2
Ms. Kaye Bond – Habitat 18 Year 5 & 6
Kawal Bedi – Habitat 2/3 – Year 1
Mr Nathan Hinton – Habitat 5 – Year 2/3
Miss Te Ana Lambert – Habitat 20 – Year 3
Mrs Trudy McKeich – Habitat 19 – Year 3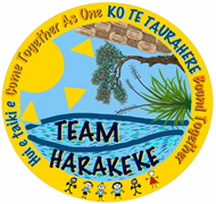 Harakeke (flax) was chosen because it represents the whānau (family) in Māori thought. The rito (shoot) is the child. It is protectively surrounded by the awhi rito (parents). The outside leaves represent the tūpuna (grandparents and ancestors).We see it symbolizes the different year levels and teachers in our learning group.The Sun in our logo represents Sunshine School of Excellence, the braid of flax symbolises us all bound together as one, the water symbolises Bayview estuary and the words are part of the karakia (prayer) that is often said before cutting flax.
​
Team Members:
Mr Jacob Allison (Team Leader) – Habitat 6 – Year 5 & 6
Mrs Katrina Cray – Habitat 6 – Year 5 & 6
Miss Jinny Kim – Habitat 14 – Year 1
Miss Adelaine Arias – Habitat 12 Year 2
Mrs Janelle Staples – Habitat 16 Year 4
Miss Shannon Corlett – Habitat 1 – New Entrant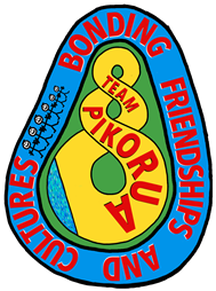 Pikorua was chosen as it means the double and triple twist. We chose this symbol because it means growing together, joining cultures and bonding friendships. This represents our learning group because we are a group who is growing together and bonding cultures and friendships. The colours we have chosen for our symbol are Red, Green, Yellow and Blue. We decided on these colours because our learning group is made up of people from the four different house groups at Bayview School.
​
Team Members:
Ms Tarryn Hoffman (Team Leader) – Habitat 2/3 – Year 1
Mrs Jackie Terry – Habitat 13 – Year 4 & 5
Mrs Elleen Davids – Habitat 17 – Year 4
Mrs Sue Millett – Habitat 17 – Year 4